Reaction Injection Molding (RIM) Parts Request for Quote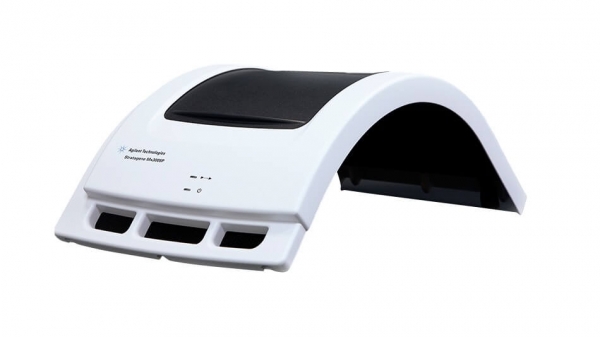 Two-Part Instrument Enclosure with Sliding Door, Silk Screen, Machined Components and Three Paint Colors
Design Octaves molds parts for many styles and types of products and equipment consisting of everything from individual parts to extensive enclosure packages.
Reaction Injection Molded Skins over Sheet Metal Chassis
One of the most common enclosures in production is the traditional skins over a sheet metal or weldment chassis. This system allows for the chassis carrying the weight of the unit and the RIM skin creating the smooth lines and design features.
Top and Bottom Covers for Benchtop Units
The traditional clamshell consists of a top and bottom RIM enclosure and typically both CNC machined or sheet metal and electromechanical interior components. Most times Design Octaves delivers these top and bottom units with multi-color catalyzed paint, silk screen decoration and exterior/interior components installed such as switches, mounting hardware, membranes, light pipes, etc.
Multi-Part Enclosures for Benchtop Units
Multi-Part Enclosures for Benchtop Units typically consist of a bottom, right and left sides, doors and several top units to complete the system. For complex products, this is a good solution for allowing access to different areas of the machine.
Exoskeleton Cart Enclosures
Medical and Industrial Carts have traditionally been designed as sheet metal or weldments covered in skins. Recently we have been seeing more designs utilizing the RIM parts as the structural chassis. This design philosophy allows the client to integrate mounting points, strengthening features, data ports, handles, and wheel mounts directly into the RIM enclosure. With RIM parts can have thick wall sections increasing strength without the sink marks found in traditional injection molding.
Traditional Skin over Sheet Metal Chassis Cart Enclosures
We still see a lot of traditional skin over sheet metal chassis enclosures at Design Octaves. These are used when the until has an extensive gross weight, height torques pumps & motors as well as liquid management such as liquid cooled CPUs and lasers.
Wall Mounted Enclosures
RIM wall mounted enclosures are found in the National Security industry as well as in OEM markets for employee entry and exit applications. These units consist of a heavy plate aluminum or steel wall mount combined with a sheet metal interface for attachment to the wall mount. The RIM enclosure is mounted to the chassis with unique security fasteners or a key lock.
Ball Stud Mounted Panels over Sheet Metal Chassis
Ball Studs have taken over the large and medium-sized panel world by allowing for adjustable, easy, quick installation combined with one screw removal for maintenance and inspections. Ball studs are available in many sizes, push-pull strengths, and can be either mounted with the ball on the chassis or the RIM panel